Throw away any preconceived notions you had about what lettering stencils had to look like! Now you can create lettering or numbering stencils with any size or font or anything else you can think of! You are no longer stuck with what you can find at the Craft Store. You can easily create your very own Font stencils with any combination of fonts or sizes you like and you can even combine your own "artwork" within the same stencil. Then use the stencils over and over again with Paint, Ink or even Glass etching cream. The possibilities are endless and you can do it in just minutes! Just look at a few of the incredible options!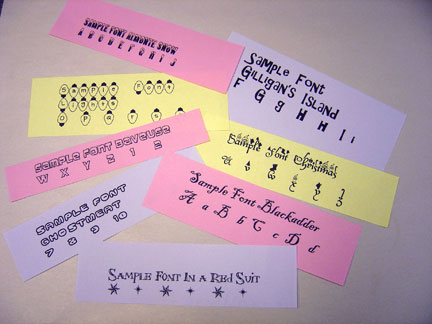 You can create stencils using letters in any font you like!
Why not try something crazy?
Or maybe you wanted something more elegant?
You can even stencil WingDings!
WIQGDingS
Or use a font that looks like your handwriting
Just print out your text (Like shown above) onto a transparency (shown below) and create a stencil like the instructions on our home page. Use a squeegee to apply paint through the stencil and you can print or paint any part or all of the stencil on anything that will accept paint or ink. You can even use the stencil to etch glass or etch any metal. Try finding this kind of flexibility with a Craft Store stencil.
CHECK OUT THIS EXAMPLE BELOW!
MADE FROM THE COPY ABOVE!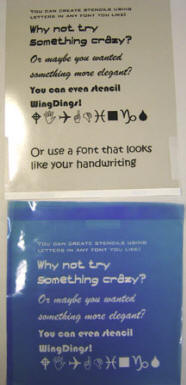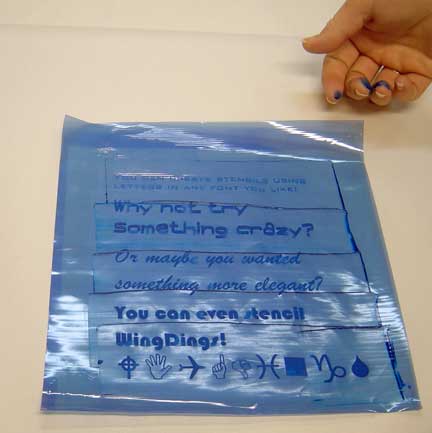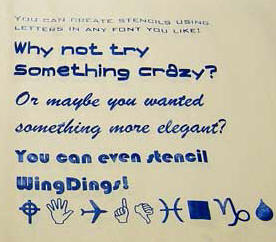 SEE HOW YOU CAN USE "PARTS" OF THE STENCIL


AND YOU CAN EVEN COMBINE LETTERS WITH CLIP ART!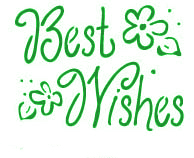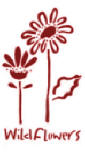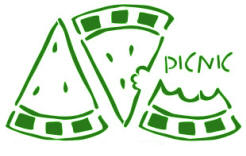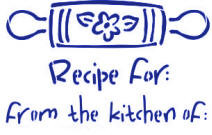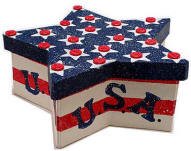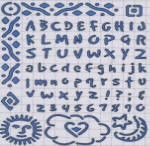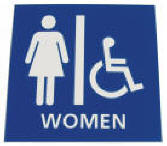 There you have it...A New Stencil Making System that will open up a world of Great New Possibilities for you and allow you to use Your Talent and Ideas to have a lot of Fun and make some real Money if you so desire. You are only limited by your own Imagination and Energy. So now is the time to let your Artistic Ideas flow and enjoy creating things you have put off before as too much work....especially if the artwork had to be repeated over and over again or was quite complicated. This new system cuts through all of that and Frees You up to "Multiply" yourself if you are creating any item or artwork that needs to be "Produced" in almost any amount.
Now you can really Enjoy your Crafts knowing that you are Saving Time, Money and a Ton of Work using these New Stencils and also knowing that many New Ideas are now open to you. So take a few moments and examine this site and consider all of the ideas that you can easily use.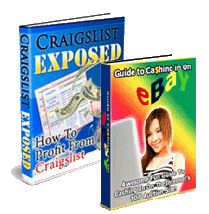 2 Free E-Books On How To Make Money On EBay & Craigslist!

We want to help all of our customers use their Ideas and Talent to

make Extra money

during these tough times so we are offering You 2 Free E-Books To help You sell your Crafts or Products.
Click on the Shopping Cart Link below
Fill out the required info and you're on your way!
NOTE: There is No Catch to this…it's Free
We Never Sell Your Email to Any List - They are kept Private.
Here now are the Three Best Universal Stencil Maker Kits on the Market Today for use with Acrylic Paint, Ink or Etching Chemicals! There is Simply NOTHING Else like them Available Anywhere on the Internet Or In Any Store. This is New and is catching on like Wildfire and You can be one of the First in your Area to have one. And remember it will open up a World of Artistic and Business Possibilities for you and Save You Time, Effort and Money and let you do things never before possible.
Be Sure And Take Advantage of the Special Low Prices on these New Kits during this Limited Time Offer. Simply decide on the actual Size of the Stencil you may want to use....such as 5"x 6" or 6"x 8" or 10"x 12" and let that help you decide on the kit you will find the most Economical for You.
Note: Besides the Stencil Maker Kit you will probably need Acrylic Paint, Squeegees and possibly some Frames. We have tested almost all brands of paint and you will find the Best ones here and at very Low Prices. Also we have tested Plastic and Wood Frames and the Oak Frames shown below are By Far The Best.