Contents:
1 UV Exposure Unit in Aluminum Frame Measuring 5"x6"x12" High with Electric Cord, Switch and Special 365 Nanometer Ultra-Violet Bulb (120 Watts)
1 Aluminum Exposure Tray with Compression Foam and Glass Top.
1-16oz. Bottle Stencil Developer
1 Plastic Developing Tray with Lid.
2 White Developer Sponges.
1 Digital Timer.
10 Unexposed Universal Stencils 5"x6".
2 FREE Samples of Universal Stencils FOR PRACTICE.
5 Sheets Transparency Film For Your Copy (8 1/2"x 11")
1 Sample Glass Etching Kit with Etching Cream
Complete Instructions
MARK 440 STENCIL MAKER KIT
(Makes Stencils Up to 4"x6")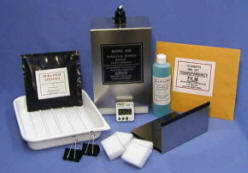 Industrial Price $249.95
(You Save $80.00)
Order Today At Only $169.95!